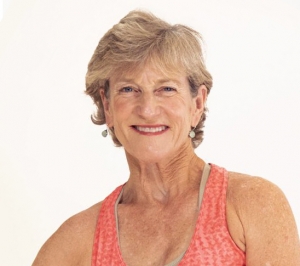 Visit http://www.ideafit.com/fitnessconnect for a look at Sarah's qualifications. In her own words:
Since 1995 I've been helping people find more energy, be healthier, recover from injuries, start exercise programs, and compete in road races, triathlons, marathons, and nordic ski races. As a competitor myself, I've learned the benefits and risks of too much exercise and not enough play: the first key to my approach to get you fit is balance and variety. 
I stay abreast of changing fitness trends and science, and my new passion is Essentrics®.  If you're familiar with the PBS show Classical Stretch, you'll recognize many of the movements this program offers.  Miranda Esmonde – White's long running show and book Aging Backwards Fast Track inspired me to become certified in this demanding but gentle (!) program.  FMI go to essentrics.com.
I run "Suit Camp" in the pool to take the stress off your joints. I teach pilates classes to complement weight training. I develop customized podcasts for you to use at home, on the road or in the gym to stay motivated between training sessions. As the trainer for Distant Journeys, I prepare people for a variety of European backpacking treks that last from five days to two weeks.  My graduate thesis on Transformational Fitness required me to dig down deep into the nature of change and motivation, tools I use daily with everyone.